Q. 125.0( 1 Vote )
Consider an extended object immersed in water contained in a plane trough. When seen from close to the edge of the trough the object looks distorted because
A. the apparent depth of the points close to the edge are nearer the surface of the water compared to the points away from the edge.

B. the angle subtended by the image of the object at the eye is smaller than the actual angle subtended by the object in air.
C. some of the points of the object far away from the edge may not be visible because of total internal reflection.
D. water in a trough acts as a lens and magnifies the object.
Answer :
The light coming from the object is refracted at the water-air interface. This causes its apparent depth to be reduced. The apparent depth is less for objects father away from the edge. The refracted rays subtend a smaller angle in our eyes than the original rays would. Also, incident light from parts of the object far away from the edge may always strike the surface with angle greater than the critical angle. Hence, total internal reflection will occur, and light will not be refracted. Consequently, some parts might not be visible. Hence, the first three options are correct. Water doesn't act like a lens. It is just a medium. Hence, (d) is incorrect.
Rate this question :
How useful is this solution?
We strive to provide quality solutions. Please rate us to serve you better.
Related Videos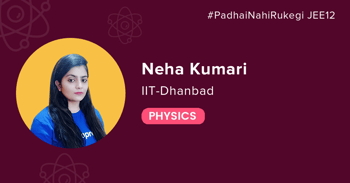 Ray Optics | Getting the basics
46 mins
Young's Double slit Experiment | Master important concepts
45 mins
Concave & Convex lens
FREE Class
Young's Double Slit Experiment
51 mins
Revision Quiz of 12th | Nuclear Physics
71 mins
Bohr's Atomic Model
46 mins
Photoelectric Effect | World of Photons
45 mins
Nuclear Physics
54 mins
Human Evolution | An Important Concept
40 mins
Human Evolution
38 mins
Try our Mini Course
Master Important Topics in 7 Days
Learn from IITians, NITians, Doctors & Academic Experts
Dedicated counsellor for each student
Detailed Performance Evaluation
view all courses